Date visited: August 2017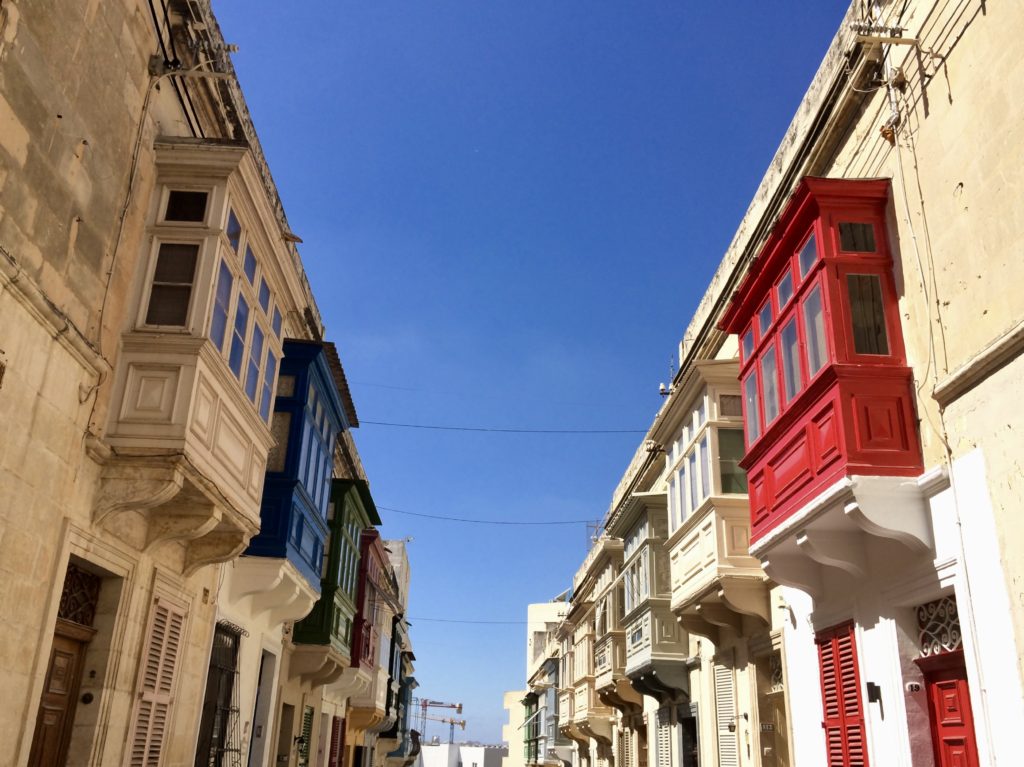 We spent a week in Malta as our post-Phd/post-graduation week off, and it was our first proper summer holiday together(meaning beach holiday abroad). Can you guess this equaled very high expectations?! Here are my thoughts on this little island country:
It is an island country.
Uhm, dummie, that's kind of the point. However, I've only been on islands that belonged to a larger motherland, so it was strange and almost exotic to experience life on an island just as big as the size of Budapest that functions as a sovereign country. Tourism is important, but it is still not just tourism that runs the country. Although the population is not really large, when tourists add up to the people travelling around on the island, it can feel chaotic – cosmopolitan and underdeveloped at the same time.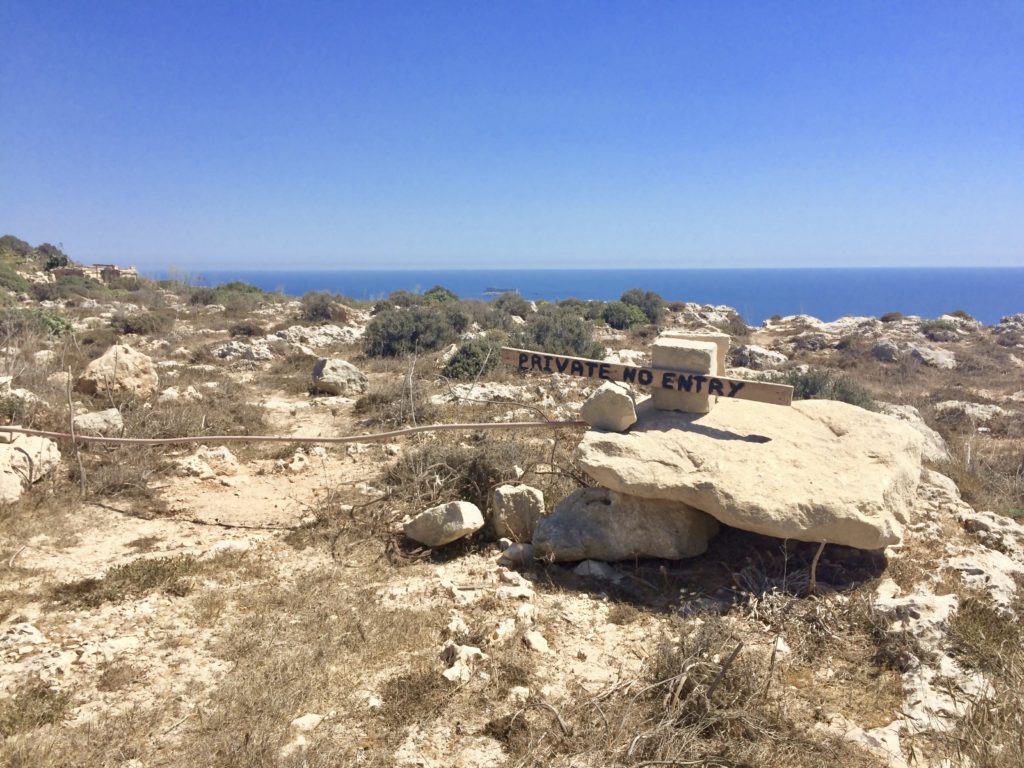 It is an EU Member State but you don't really feel it. 
I was curious. Malta's accession to the EU was in the same year (2004) as that of Hungary, so I wanted to see how EU-ish it looked and felt like. Aside from being able to use our IDs as travel documents, it was nothing like other EU Member States. Again, it has to do with Malta being an island country and a small state, but still, there's nothing particularly European in it. I think it must be connected to my next point:
It is not about English.
When I was 16, I had a plan to go to Malta for the summer to improve my English skills, as the country is famous for its good language courses. (This plan then went up in smoke, for reasons I can't remember). That must be true, but when you listen to people talking, English is rarely ever used. The tradition is still there, though, with countless British/Irish pubs, red phone booths and imported British goods in the supermarkets. (It was very hard not to buy everything that I knew was British food or drink, but I managed!)
Maltese as a language mostly sounded like Arabic to our ears, which might be no surprise knowing that the Arabs spent quite a long time on the island and left their footprint on the culture. We found that Maltese architecture is what reflects these roots the most with its beige stone buildings and colourful doors.
The third component that made Malta feel so unique for us was that more than anything else, Italian is very often used in conversations. The bus driver might greet you in English first, but if you switch to Italian, they will continue in that language without blinking an eye.
Now with that knowledge in your hand, let's see what you can do in this tiny jewel box country.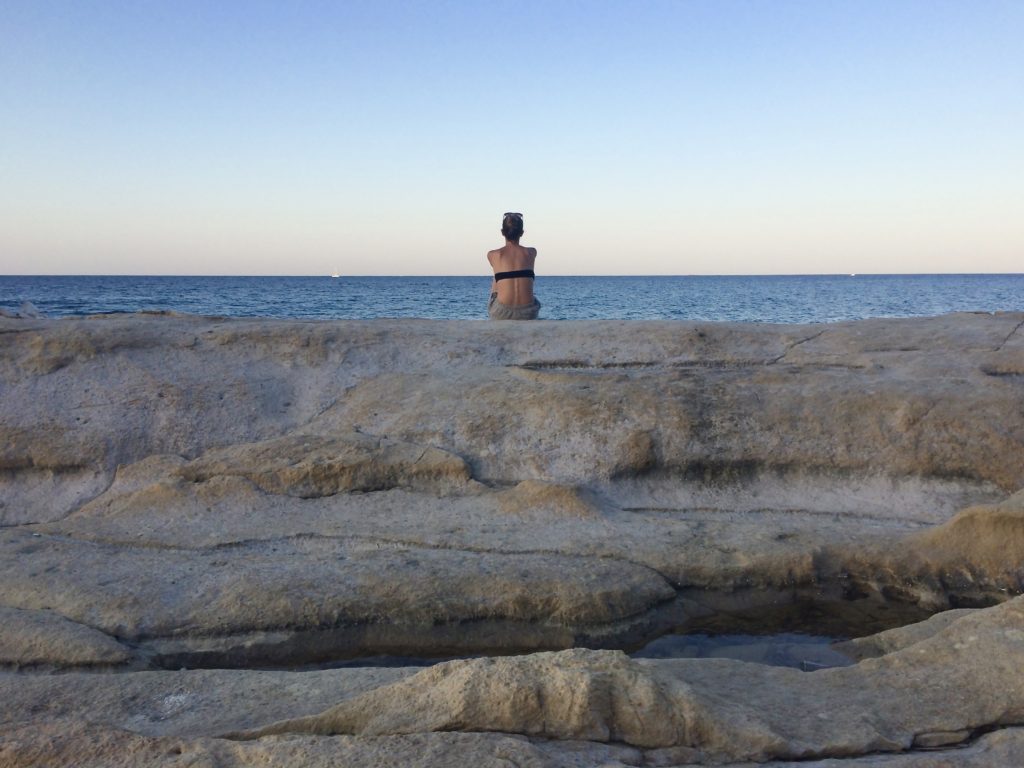 Where to stay in Malta 
I would say it depends on what you are planning on doing. Although I am by no means a Malta expert, I would recommend staying in the Sliema/St Julians area if you want to move around a lot, as it is a good public transport hub, but it is laid back enough to feel like you're on holiday. If you prefer the staying-in-one-place kind of holidays, then consider booking an accommodation near one of Malta's bays that offer large sandy beaches (Tuffieha Bay, Golden Bay, or Mellieha Bay and St Paul's Bay). Be prepared though, large here means large enough to find a spot for your beach towel in the crowd.
How to get around on Malta
Traffic can get pretty intense – and then tense – on the island. Some people say renting a car is the best way to move around, and I would agree if I felt comfortable in right hand traffic, but since neither of us did, we opted for using public transport. A single ticket costs 2 EUR in high season and is valid for 2 hours, so you can switch buses with it, but we recommend getting the tallinja card for longer stays. For 21 EUR you can enjoy unlimited rides on the bus network for 7 days that connects almost every corner in Malta. On its efficiency: if you are lucky enough, you can catch an express bus (using the tallinja app is highly recommended to plan trips!) that will take you to your final destination, but most rides collect everybody from every possible town that's on the way, so it could easily take an hour to travel 10 kms. We've met the coolest driver though, he picked us up while we were running to the bus stop, even though he was already on the way, and when the bus was so full he couldn't see anything, he just stood up and made it through the junction in total chill mode. Don't let the horror stories about Mediterranean bus schedule scare you off, if the bus comes and you wave your hand, it will stop if there is space on it. We were not once left behind, but there were times when the bus was so full we couldn't pick up more people, so I guess it's a matter of luck as well.
What to see in Malta
Valletta 
Spend a day exploring the capital of Malta – you won't be disappointed. We took the ferry from Sliema for 1,5 EUR/person as we didn't want to spend too much time getting to the city and it gave us an instant glimpse at what Valletta looks like. We started at the City Gate, then walked along Republic Street – despite the many modern shops and the cosmopolitan vibe, it was amazing to look at all the beautiful balconies so typical in Malta. Look out for St John's Co-Cathedral, the Palace with the National Library in it, grab an ice cream at Caffe Cordina (try the mango and the pistachio flavors, they are amazing!) then learn a lot about Malta's history at National War Museum/ Fort St. Elmo. We continued our way to St Ursula Street as I saw pictures on Pinterest that showed a beautiful street with hundreds of stairs, and that lead us through a more peaceful neighbourhood with very good photo ops. The colours and the doorknobs are incredible, I was ready to spend a whole day just taking pictures of them – but we obviously wanted to take in more than that. The Lower and Upper Barakka Gardens are a must if you want to have some rest between two walks on the streets – the Lower Garden seemed more laid-back while the Upper Garden is more touristy – I would recommend checking out both. If you fancy something refreshing after a long and hot day, try the ice tea at Taproom, it takes time to make it but every drop of it was worth waiting for!
Sliema 
It is more like a residential area with not much to see, but it grew on me instantly. Touristy and buzzing if you take the promenade, local and charming if you wander in the more quiet streets. We didn't really see the point of staying in Valletta as it was so close to this more laid-back area, but even if you are just thinking about visiting it, don't hesitate to do so. For a good drink and beautiful views, check out Surfside – we went back twice to enjoy a meal. Something no other place could beat was the vibe on the beach – groups of friends doing BBQ on the rocks, dancing and smoking water pipe, or couples sitting on the salt panels, enjoying the sunset – we spent quite some time just watching them and feeling the feels.
St Julian's 
We rented an Airbnb where Sliema meets St Julian's, and it had the advantage of combining the laid-back life of Sliema with the active nightlife of St Julian's. It was a special time as well, because Malta celebrated its 50th anniversary of independence and every day there was a street fiesta somewhere – it happened to be in our area the weekend we arrived. They opened the iconic church, and I think we were lucky because it remained closed the days after. They carried a Saint Mary statue around the streets and had a police band play the trumpets behind it. We even heard parts of an aria – even in our bedroom, because it was so close to Balluta Bay, where everything happened. Spinola Bay is where life happens (not to talk about Paceville, the real party area), and you can find plenty of restaurants, cafes and bars (local, British or Italian) to choose from. For something unique and local, try the rabbit (fried rabbit, rabbit spaghetti, you name it) at Gululu – it was voted the best Maltese restaurant in 2017 and we understood the hype around it.
Marsaxlokk
A fishermen's village mostly known for the cute colorful boats that rest in the bay – and good fish dishes! We connected this trip with a hike to St Peter's Pool, an incredible natural pool that is unfortunately not a hidden gem anymore – we met quite the crowd in the late afternoon. It was worth the hike though – you should definitely put it on your itinerary! If you prefer more of a typical beach, try Pretty Bay – it has amazing azure and blue waters, but be warned that the background mostly consists of docked ships at a freeport and the chimneys of a powerplant.
Mdina/Rabat 
I was convinced they were two different towns, although the fact the Mdina means 'old town' should have served as a clue already. I will tell you the secret: Mdina is the old town of Rabat. Bam, there you have it. It was one of the best experiences on the island, on that we totally agreed. Quiet and narrow streets with the cutest details (although one remark: it is called the Silent City yet it was full of noisy cars on the main streets – disillusionment at its best), and the world's best ice cream (yes, even better than Cafe Cordina's!) at Fior di Latte. The girl working there was super nice and let me taste chocolate hazelnut which was like nutella ice cream, and then handed me the best of all: pure hazelnut! A must-try, if you ask me (I seriously considered going back just for, like, a hundred scoops of it). Next to the ice cream shop I found the most beautiful house in town – there is something about beige and navy that I just can't get over, it's so eye-catching and calming I was just standing there until the ice cream melted and decided to make a visit on my top and skirt (and eventually toes as well). When in Rabat, look for the street I forgot the name (scavenger hunt?) with the ONLY yellow door we could find – and handed me the coolest photo op of my life. I was basically dressed like a door. More importantly, check out one of the catacombs – we opted for St Agatha's Catabombs and were rewarded with a short yet very informative tour of Maltese burial habits. Even those who visited both catacomb-complexes voted for St Agatha's, so I would recommend checking it out.
Blue Lagoon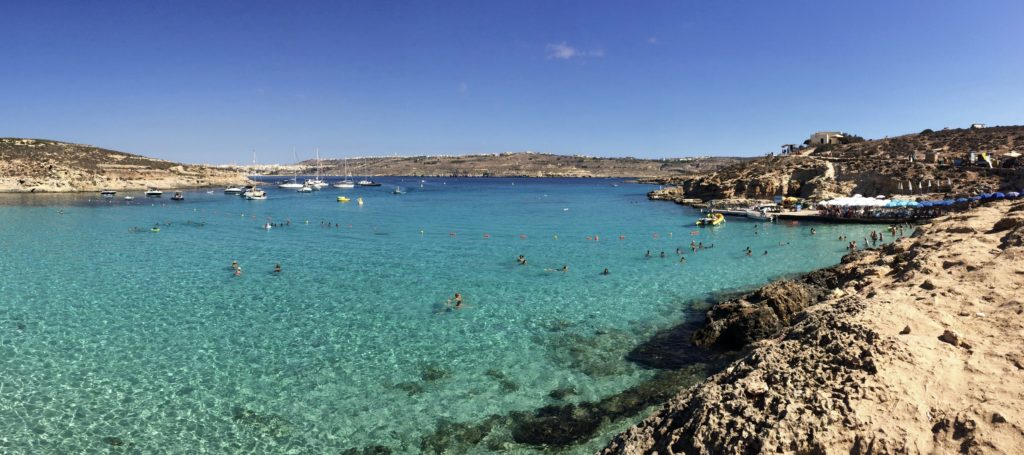 It is a must-see. Important tip: avoid the guided tours to Gozo and Comino islands and catch the first ferry at 9.15 that goes to Comino – you will have the Lagoon for yourself (and a handful of others who do not really bother you) for an hour or two, then cruises like Captain Morgan or Sea Adventures will arrive to cause a locust infestation in that pretty little but definitely-not-hidden gem. Rocks, sandy surface and the clearest and bluest water – I think it is worth the trip. With the herds of people I would say it's 3,5/5, because the crowd gets really bad really quick, so consider that before deciding to spend a whole day there.
Tuffieha Bay 
Ghajn Tuffieha or Riviera Bay lives up to its name – it's like you've found a real riviera amongst the rock-dry and dead plant formations. It is definitely the most beautiful beach we've seen and we agreed that it was a perfect rest day choice, even though we got so bad sunburn it almost caused me fainting on the bus on the way back. Oh well. Now we found that it is much less touristy than Golden Bay (and much more beautiful than Mellieha Bay or St Paul's Bay that have views to the boats docked there, while Tuffieha had real uninterrupted sea views), and it was large enough not to get too crowded even in the afternoon. A sandy beach with so clear water you could see your feet wherever you were within the bathing area, it was the cherry on top of our holiday pie.
Gozo 
Although Gozo was at the top of my list, we had to skip it due to the bad sunburn we got the day before. Still, I highly recommend visiting it! Use the tallinja card to get around cheap, or try the hop on hop off buses for 20 EUR/ person to get around fast. You choose. Although the Azure Window no longer exists (I wonder how it might affect their tourism statistics), Gwejra Bay and Tower and the area around it still worth the visit. We would have opted for that and wandering the streets of Victoria/Rabat (not the other Rabat), then spending some time on Ramla Bay which is said to be similar to Tuffieha Bay. If you don't suffer from sunburn by then, definitely check it out!
Additional places still on my list:
There you have it, the Malta Experience we had, I hope it will help you when planning your trip to this little island country! I know we didn't cover everything, so share your experience in the comments below!