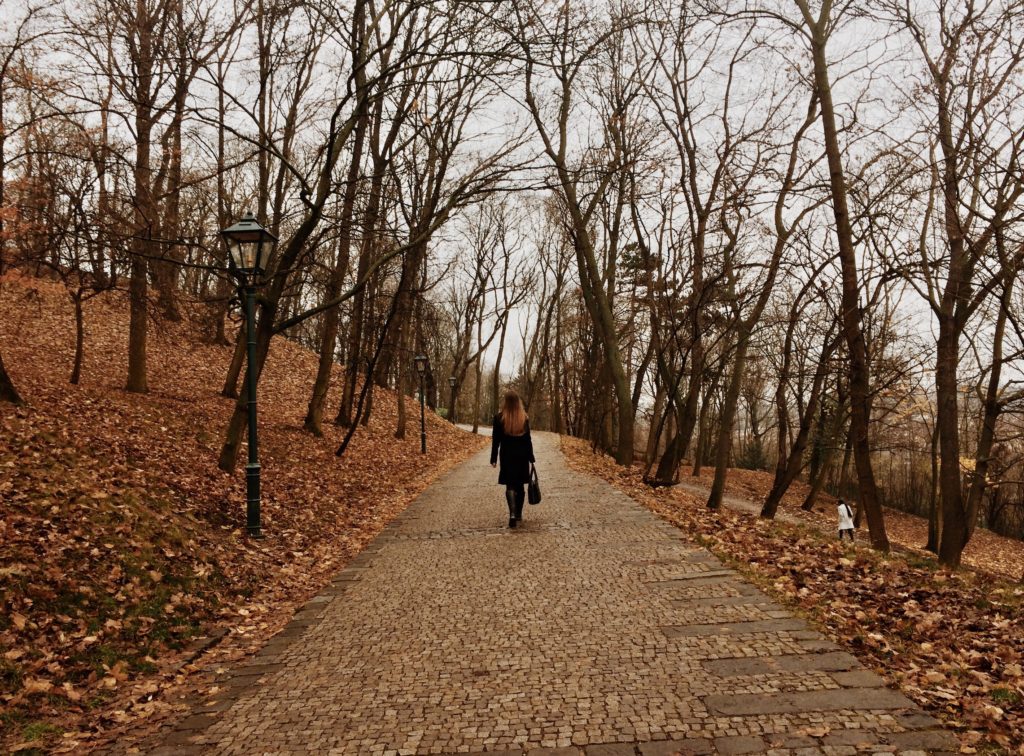 M and one of his closest university colleagues had a conference in Brno the other weekend, so us girls decided to join them for a little road trip and weekend city tour. Although we arrived late Friday night, our timeframe for sightseeing was Saturday afternoon-Sunday noon, so this post will show you what you can do in Brno in 24 hours!
Where to stay
Brno is the second largest city in the Czech Republic with its population of ca. 400.000, yet everything you might want to see (except for the Anthropos Museum) is within walking distance. We chose this apartment through Airbnb – it can be the perfect base for a weekend if you prefer the more residential areas for sleeping and don't mind the 25-30 mins walk to get to the old town / city centre. A quick shoutout: it was satisfyingly clean and modern, with a very moderate price range, so we highly recommend it!
How to get around
As the old town is considerably small and really central, you can easily get around on foot. We didn't buy any public transport tickets, yet we managed to see everything we planned without feeling too exhausted. If you prefer public transport, the trams run frequently and to basically everywhere you wish to go.
Where to eat and drink 
The first night was really about sleeping a bit since the boys had the conference the following day, so we bought a couple of things at Tesco and had a low-key sandwich dinner. Saturday lunch consisted of some gems we found at the Christmas Market (read more on that below) and we finally had a nice Czech dinner at Restaurace Špalíček – moderately priced and high quality food! We tried the Czech plate, had onion soup before, and with two apple strudels, a coffee and some beers we were still under 800 CZK. You cannot even do that in Budapest anymore!
For drink we recommend a real student-friendly place called U Dřevěného Orla – a bit of a labyrinth, if you ask me, but it's all about spirits and craft beers, with a very buzzing atmosphere. The others also tried a place where you can tap your own beer at your table, and a spirit bar (called Spirit Bar) that they loved – these are also recommendations from locals!
+1 hidden gem: Inside Hotel Continental once you pass reception and turn right, you will notice the entrance to the CCC (Cohiba Club Conti), and as you step in, you get sucked into a Great Gatsby ambiance and you can enjoy a variety of hard liquors and cigars. Waiters with white gloves, live piano music, an Aperol spritz with olives, if you will… pure perfection.
What to see and do 
1. Visit Špilberk Castle 
Already the way up there is amazing – the colors shout 'FALL' in your face, and although I'm sure it must be beautiful during spring and summer with all that green around, I find it extremely satisfying and calming when I see brown all over town. That's just it. The castle itself is nice if you haven't had the pleasure to visit one like this before, but we opted for a walk around it and a quick look at the courtyard as we wanted to absorb as much of Brno as possible. It was the only time that we heard Hungarian voices as well, and considering it's so close to Hungary, it was something I really appreciated. In my head Brno lives as a completely normal, not so touristy town and I'd like it to stay this way.
2. Pass by all the churches in Brno
I won't mention each of them as different sights, because for me they rather gave a beautiful frame to the city. First we passed by the Red Church – I'm fascinated by everything brick! – then following our walk up to Špilberk Castle we worked our way towards the Cathedral of St Peter and Paul. This is a church you will definitely spot from all over town, since it's on a hill and it looks majestic from every angle. We arrived just after sunset, so the lights provided an even more grandiose look to it. Finally, I would recommend checking out the Church of St James, especially because there's an ossuary underneath it and it's amazing! More than 50.000 people are buried here and thus is the second largest ossuary in Europe after Paris. (Prices: 70 – 140 CZK)
3. Climb the stairs to see a bit more of Brno
We discovered two ways to do this: You can go up the tower of the Old Town Hall, but I believe there's a small entrance fee of 60 CZK. You can combine it with a visit to the Labyrinth under the Vegetable Market (Zelny trh), but if you only want to take a look at Brno or rather Zelny try from above, I'd recommend climbing to the top of the building of La Donuteria Brno. First I spotted the people, then I found the way to go up, and although you only have a limited view, I would highly recommend taking this little detour.
4. Mingle at Brno's several Christmas markets
I know this activity is limited to the advent period, but since at the time of writing this article Christmas markets are still up and running, I thought I would include them in here. I had my second best meal at a bodega at Freedom Square: grilled smoked cheese with garlic sauce or blueberry jam! It was so good we actually dragged back the boys on Sunday as well, and although they had the freedom to choose their own lunch, as soon as they spotted the melting grilled cheese, they all opted for it. Bonus point: one of the vendors was Hungarian! Also recommended: Trdelnik (or kürtőskalács in Hungarian, if you will) and all the delicious food stirring in big pans. No details needed.
5. Visit Europe's only mammoth
Finally, something out of the old town centre, the Anthropos Pavilion is a must if you are into archaeology and, well, mammoths. You can learn a lot about prehistoric times and people, for example how they processed and used every part of an animal.  Very interesting! But the real deal is the giant stuffed mammoth in the middle of the museum which I'm not gonna show here because then you won't go. You should seriously go. The end!
There you have it, an honest guide on how to spend 24 hours in Brno. I'm sure there are a lot more to see, and – since it's a university town – many events to attend if you have more time. We only had a day to 'czech out' this Czech gem and I hope it inspires you to do so as well!
SaveSave
SaveSave
SaveSave
SaveSave
SaveSave