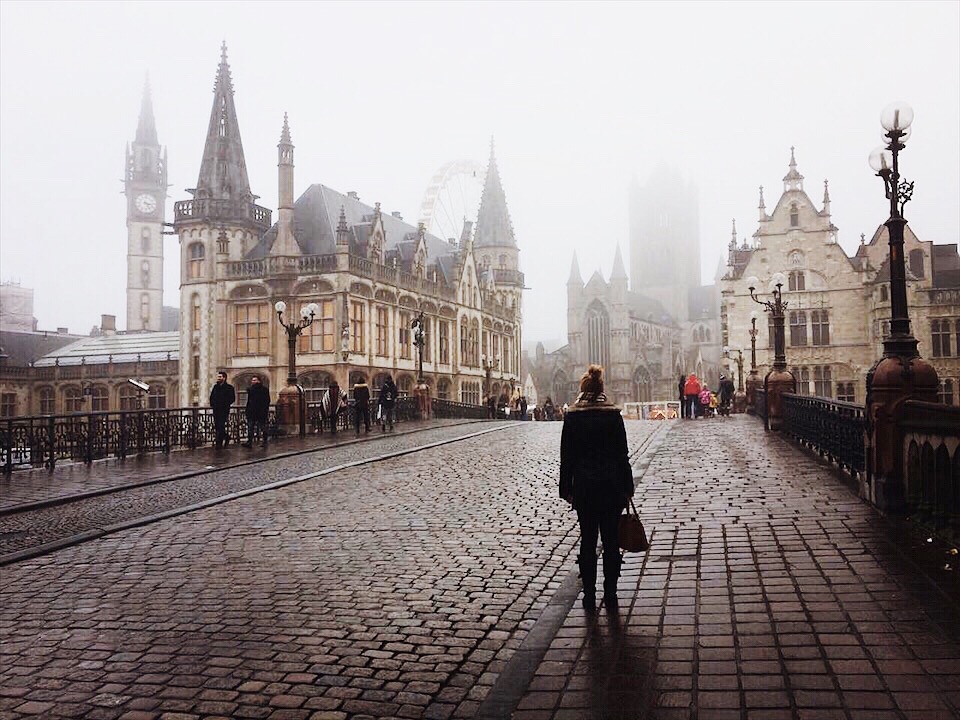 It's about time I wrote about our trip to Belgium, since it was exactly a year ago! We found a pretty good way to say goodbye to 2016 and kickstart 2017 – we skipped all the New Year's Eve parties at home and headed to Belgium for five days. We enjoyed it so much and it went so smoothly (well, almost) that I thought I would share our ultimate guide to this BENELUX country with you!
The travel plan includes the following cities: Leuven – Oostende – Brugge – Antwerp – Ghent (+ optional: Brussels)
How to get around in Belgium 
We took a really cheap Ryanair flight to Brussels Charleroi (CRL) (it was under 10 EUR and the prices usually move around this range since it's one of the most frequented destinations from Budapest) then took the shuttle bus to Brussels Midi (for 14 EUR/person).
Whether you stay in Brussels or settle down in another city, I highly recommend taking the train to explore the country. You have very reasonably priced options like the Go Pass for 52 EUR if you're under 26 which allows you to have 10 trips anywhere within Belgium or the Rail Pass for 77 EUR if you're older – also for 10 trips in the country.
The trains are clean and fast, and most importantly very safe – beside the everyday commuter you'll find most tourists choosing this option to get around in the country.
Where to stay in Belgium
You have several options here as well. We skipped Brussels because we only had 4 full days in the country and we've both been there before, but if you want to include it in your trip, it can serve as a good starting point for your adventures. However, if you're planning to visit the countryside, I'd recommend you skip the more touristy cities like Brugge and Ghent and head to Leuven instead as we did – and it was a very good choice!
Although initially we wanted to stay at an Airbnb home as we usually do, we found that the easiest option was to stay at the Ibis Budget Leuven Centrum (145 EUR for three nights for the two of us in the holiday season!) as it is basically built right onto the train station, separated by nothing but a flight of stairs. This came in handy when we were still sleepy in the morning and only had to walk for 3 minutes to get to the platform! OK, it ended up being 5 because we stopped in the underpass to grab some delicious sandwiches at a Panos (highly recommended if you want to skip the hotel breakfast!)
First I was worried that Leuven would be too far from everything else we planned to visit, but guess what: small country, short train rides. Even travelling to Oostende (on the seashore) took less than 2 hours, so your initial location should really not matter! Besides, neither with the Go Pass nor with the Rail Pass should you worry about the duration or the distance of the rides.
How to spend 5 days in Belgium
Day 1: Leuven
We only had a little more than half a day to enjoy the city, but it was enough to get charmed! If you go from the train station (and even if you don't), try Gaufry's on Bondgenotenstraat for some authentic waffles – just bear in mind that these are not something you can eat elegantly. (I'm glad nobody knew us on the streets back then!)
What you cannot miss in Leuven:
The University Library if you're a bibliophile (and even if you're not) – the whole building is amazing and full of history (fun fact: it was designed by Whitney Warren, the architect of Grand Central Station in New York City)
Groot Begijnhof – I've never been to a beguinage before, but this one stole my heart instantly! The very picturesque and calm neighborhood once in the early 13th century belonged to a semi-clerical community of women, who worked for the church in housing guests and caring for tourists – now it's an UNESCO World Heritage Site occupied by university students – and their bicycles. Spend some time here, it's really worth it!
Grote Markt and Oude Markt – the former is home of the Town Hall and Sint-Pieterskerk (St Peter's Church), while the latter is called "the longest bar in the world" as it is basically a rectangular piazza with both sides featuring a lot of patios and outside seating areas for pubs and different bars, all built together. (We didn't see much of it in winter, but it was still very cozy-looking with all the Christmas lights!)
for dinner: try the Belgian plate (highlight: plain meatballs with a splendid raisin, pear and apple based and infused brown sauce, made with what is called Sirop de Liège – amazing!) and the beer selection of Domus (the variety of Domus beers is not canned nor bottled, it can only be purchased here in the entire world, on tap)
if you're there at wintertime, don't forget about the Wintertijd (meaning exactly wintertime) which is their Christmas market. And the lights! The lights are what give nighttime Leuven its real charm.
Beside these sights, just wander the streets of the city and don't be afraid to get lost!
Day 2: 
Oostende 
I know, you probably wouldn't think of Oostende as the primary destination when in Belgium, but believe me, you have to see it! The smell of the winter (or summer, or whatever season you go) sea is priceless, and being there during wintertime provides an exceptional opportunity to be by yourself if you want to. Like a freezing, early April morning on Coney Island (post on this experience coming soon)! A couple of runners with their dogs, and you. That's all. Beside the beach you should pay a visit to the Sint-Petrus-en-Pauluskerk near the train station and if you prefer to be outside, Leopoldpark is a perfect choice even in wintertime. We didn't eat anywhere because we only spent two hours here before leaving to Brugge, but Waterhuis seemed like a nice place to set foot in! Oh and if you go before New Year's Eve as we did, you can still catch the Christmas markets and the ice rink (Winterijs) as you walk along the many little streets of Oostende.
Brugge
Now Brugge is something you have definitely put on your Belgium bucket list already. It's THE place beside Brussels to visit, the Colmar of Belgium, if you will. It is truly beautiful, but I have to say, it was a bit too cold for us in December to enjoy everything the city has to offer.
Now let's see what you can and should do in Brugge:
start your sightseeing in the romantic Minnewaterpark (you probably will anyways, as it leads the way to the city centre) then explore the Begijnhof of the town (although be prepared that its accessible parts are neither as big nor as beautiful – at least in my opinion – as the one in Leuven)
check out the beer selection at the very famous Brouwerij der Halve Maan (Half Moon Brewery) – they take the beer game to the next level as they don't even have any kriek-like fruity beers (and they easily get offended if you ask for it – We only sell beer, they will say.)
mingle with the crowd at the Grote Markt – BUT beware that Christmastime means way too many tourists in Brugge who all tend to end up at the main square Christmas market (one more reason to go off the beaten path in the city if possible)
if you have a sweet tooth, you have to try the Old Chocolate House – a chocolate lover's dream! A small, cozy grandma's home-like place with the most amazing and unique hot chocolates – they give you hot milk and a creation of their spices-and-fruit infused chocolate which you can put in the milk yourself – beautiful to watch as it melts and becomes The.Best.Drink! It's something very soothing after a long walk in the freezing cold outside. Pro tip: Don't try to drink hot chocolate AND eat their waffles, only if you're a hardcore sugar fan – this will put you in a strong sugar coma which is not the best if you still have a lot of walking to do
take a stroll in Koningin Astridpark – in nice weather it must be beautiful, for us after eating and drinking all the chocolate it was rather a must!
take the boat tour in the spring/summer/fall season – yes, this is something we missed because we went in December – there were still some hardcore people who let their bum freeze on the boat but it's more fun when you can actually enjoy it! (M was in Belgium for almost a semester a few years ago and he indeed did take the boat tour, so it's field tested and it's worth it!)
Day 3: Antwerp
Oh, Antwerp, my love. I realized I always prefer the more liveable cities over the more "fairytale-like" towns – Strasbourg over Colmar, Antwerp over Brugge or Ghent. Still, I try to give a more or less unbiased opinion of the cities and since I find something beautiful in everything, I'd never say a city is not worth a visit unless it really isn't.
So, let's see what Antwerp has to offer for a day!
Start your tour by admiring Antwerp-Centraal itself – it's a beautifully designed 5-floor (!) train station, so don't rush to the city centre just yet!
Diamond District – yes, this is the place to get yourself a new best friend. Check out Diamond Land for a free tour of the factory (cutting and polishing), and it is also free to just try stuff on. (This is how I ended up with a 90.000 EUR 2-carat ring on my finger, but you know what? I didn't like it that much!) For a (considerably) cheaper option, surprise yourself with a 0.001-carat, brilliant-cut loose diamond – all for 15EUR!
Stadspark for a nice stroll on a sunny day
Bourlaschouwburg (Burla Theatre) and Rubenshuis (Rubens House) – we skipped these two for the day, but if ever going back, we'll definitely pay a visit! (M checked out the Rubens House years ago and tells me it's definitely worth it)
Shopping Stadsfeestzaal on the Meir – a magnificent shopping mall with a baroque interior. Try the café in the mall hall for a latte or mint tea!
MoMu Fashion Museum – depending on what you want to get out of the day, this can be a very unique point on your list!
Groenplats and Grote Markt – they house the magnificent Cathedral and the Town Hall – tip: find the hidden pathway (entrance between t'Hofke and El Toro) between three or four buildings around Oude Koormarkt that shows a rural, wooden enterior!
Steen – the castle itself was not a big hit for us, but it's a beautiful location to watch the sunset from!
head towards MAS (Museum an der Stroom, or Museum on the River) to see the panoramic view from the top floor (10) – it's worth taking the stairs and stopping by each floor as they all have their own unique style!
for Antwerp's Red Light District, visit Oudemansstraat and Shipperstraat (near Falconplein) – we've ended up there accidentally, but as I've never been to Amsterdam before, this was something very new to me.
and for something to eat: try Otomat for their pizzas! (recommended by local friends)
Oh and if you have an extra day in the city, visit Antwerp Zoo as well! This is something I'd really love to do on our next trip there.
Day 4: Ghent
Our final full day took us to Ghent, another city known as a real gem. Since it was 31 December, we had evening plans in Ternat with some friends, so we had just a couple of hours to see the city before taking the train again, but guess what: it was enough!
Here's what you can do in a day in Ghent:
from the train station make your way through Citadelpark to Sint-Pietersplein and pay a visit to Saint Peter's Abbey ( we were completely alone both inside and outside of it)
Visit the old town (see below)
The infamous Graffiti Street was unfortunately locked down when we were there, but if you can, try to catch a glimpse of it!
Gravensteen – now this is a castle you should definitely see – just not on 31 December as it is closed – well, we didn't think about this before going. Next time!
if you're hungry, try Koffie 3,14 Thee – Best waffles in town!
Sint Michielskerk – it was also closed on 31 December (see why going this day it wasn't the best idea?) but it looked stunning from outside as well
Sint-Michielsbrug – where M took my featured photo. In this foggy weather it was even more mystical!
Korenmarkt – one of the most beautiful squares in Ghent in my opinion. The historical buildings host restaurants, bars and shops today – I looked in one of the windows and it was like in the elves' toy factory in Polar Express – a huge brick-walled factory building with a lot of items laying around – instead of toys, however, these were mostly designer clothes!
if the weather allows, just walk along the Lieve and admire the architecture of the city – it's what I was most fascinated by!
This tour can be done in a few short hours, but take your time if you're not in a rush – the city has a lot to offer!
Day 5: optional day in Brussels 
We spent the previous night in Ternat celebrating New Year's Eve and eating a lot of delicious food, so the next day was mostly about packing and going to back to Charleroi Airport. However, if you want to spend it as a full day, you have still time to explore Brussels a bit (by this time you'll still have a spare ride on your Go Pass or Rail Pass), so feel free to squeeze it into your itinerary if you're up for a little more adventure!
There you have it, a very active 5 days in the beautiful Belgium! There's a lot more to see, so we'll definitely come back sometime to explore the rest of the country, but for now we're very happy with our end-of-the-year trip!
What are your favourite places in Belgium? What else should definitely get featured in this guide? Feel free to tell me in the comments below!
SaveSave
SaveSave